OUR LADY CHURCH (KOŚCIÓŁ MARIACKI)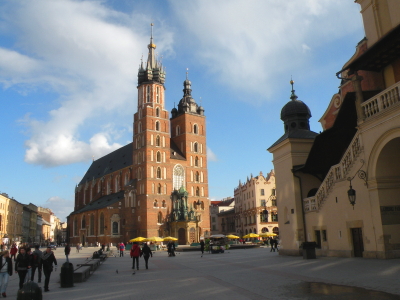 First information about the church comes from 1222, when the bishop Iwo Odrowąż invited Dominicans to Krakow, offered them the then parish Holy Trinity Church and transferred the parish to present day temple.
The first Romanesque church was far smaller than today. Probably destroyed by the Tartars in 1241 and slowly because of difficult situation re-erected. In 1355-1365 Our Lady Church got presbytery founded by Nicolaus Wierzynek. Finally in 1390, got its present shape – 80 meters long basilicatype temple with two towers and

the vault rising 28 meters above the ground. Later on, the church was surrounded with a ring of chapels belonging to noble families living in Krakow.
The two towers of the church are worth mentioning. The lower has 69 meters high, the higher has 81 meters and is the highest point in Medieval Krakow. Its high was the reason to keep guard in case of fire. The fireman every one hour calls bungle call – in the past it had special reason to keep attention and not to sleep, today it's just tradition and great tourist attraction. Not to cover the view 360 degrees, the second tower was built as smaller.
In 1442 the vault over the main altar collapsed, according to some historians, it was an earthquake that caused damages here and in Saint Katrina's church. The earthquake is confirmed by the chronicle by Jan Dlugosz who describes in symbolic way this rare in Krakow phenomenon. That was also the reason of restoring the interior and employing some good sculptor able to make main altar. Indeed, the main altar is real masterpiece of the St. Mary's Church. In 1477 townspeople employed Veit Stoss, young but already well known sculptor from Nuremberg. In the course of 12 years the artist completed his assignment perfectly well.
The central part of the altar depicts the Dormition and Assumption of the Virgin Mary. In the scene of Dormition the Virgin is depicted as beautiful woman falling asleep and being hold by St. Jacob. There are other apostles around presented in naturalistic way. They show imperfectness of real people – some of them became bold, one suffers thyroid, another skin illness. This realistically sculpted figures were examined by a dermatologist Tadeusz Walter, who even wrote his dissertation on skin diseases. All the figures are dressed in typical of that time dresses, nowadays they are great theme to research the way of life of Medieval people.
The altar was made as pentaptych, next to the central part, Veit Stoss made internal and external wings. Eighteen scenes visible on the wings present the Virgin and Jesus Christ's life. The altar, with closed external wings presents:

-

St. Anna and St. Joachim at the Golden Gate
-

Nativity of Maria
-

Offering Maria at the Temple
-

Offering Jesus at the Temple
-

Jesus teaching at the Temple
-

Gethsemane
-

Crossing
-

Taking from the Cross
-

Taking to the Grave
-

Jesus Christ in the Hell
-

Three Marias visiting the Grave
-

Jesus as gardener presenting to Maria Magdalena

On the open altar there are scenes:

-

Annunciation
-

Nativity of Jesus
-

Three Wise Men
-

Resurrection
-

Jesus Assumption
-

Descent of the Holy Ghost

Additionally in the predellum he carved Jesse's Tree – Jesus Christ's genealogy, on the top Coronation of Virgin Mary, two angels and two patron saints of Poland and Krakow – saint Adalbert and saint Stanislaw.

The greatness of the church doesn't consist solely of the altar. In turn of 19th and 20th century the Virgin Mary Church was renovated. The restoration was made by the best Polish architects and artists, among whom Tadeusz Stryjeński, Jan Matejko, Stanislaw Wyspiański, Józef Mehoffer, Włodzimierz Tetmajer, Tadeusz Dmochowski are worth mentioning.
Jan Matejko, author of the polychromies, depicted angels holding banners with verses from the Loreto Litany and music instruments. According to the documents, Jan Matejko painted the church for free. While renovation, special restoration committee was established. Its members tried to prevent Matejko to paint the polychromies. Only when Matejko announced to do the work for free, the committee lost all its arguments.
During this job Matejko cooperated with his best students, future famous artists S. Wyspiański and J. Mehoffer. Behind the main altar, in three tall windows are placed medieval stain glass windows. Those in total 120 present scenes of the Virgin Mary and Jesus Christ life. Lack of original stain glass windows was accomplished by new made by Wyspiański and Mehoffer. Besides, Tadeusz Dmochowski depicted Our Lady of Częstochowa (Częstochowa) and Our Lady of Ostra Brama (Vilnius) in the chancel.

The chapels surrounding the church are also worth mentioning.

• Saint Anthony's Chapel - in Middle Ages prisoners sentenced to death spent last night in their life. The chapel is decorated with a sculpture of Saint Anthony.

• Virgin Mary of Loreto Chapel - the chapel was created by surrounding part of the nave. Inside the chapel is decorated with altar made by Francesco Placidi.

• Saint John Baptist's Chapel - the chapel is painted by Joseph Mehoffer. Inside Seweryn Boner and Zofia Bethman are burried. Seweryn boner was a banker of the king Sigismunt the Old.

• Saint Lawrence's Chapel - altar of the chapel is decorated with painting 'Martyrdom of saint Lawrence'.

• Saint Michael Archangel's Chapel - in the chapel there is a painting by Wojciech Dembowski 'Virgin Mary with Child'.

• Transfiguration of Jesus Chapel - the altar inside the chapel was carved by Francesco Placidi. The painting inside the altar presents 'Transfiguration of Jesus'.

• Saint John of Nepomuk's Chapel - this chapel is decorated in Art Nouveau style by Wlodzimierz Tetmajer and Jan Bukowski. Inside princes of the Piast dynasty from Oswiecim are buried.

• Guardian Angels' Chapel - inside the chapel there is a ghotic altar probably carved by Stanisław Stwosz (son of Veit Stoss) and presenting Saint Stanisław - patron-saint of Krakow.

• Saint Valentine's Chapel - in the altar there is a painting of Virgin Mary from Vilnius, painted probably by Rafał Hadziewicz. Besides, central part of the chapel contains Renessaince monument of Marcin Leśniowolski.

• Saint Lazarus's Chapel - in the late Barroque altar there is a painting presenting 'Raising of Saint Lazarus'.

• Virgin Mary of Częstochowa's Chapel - decorated with painting, copy of the Black Madonna of Częstochowa. Here famous couple Jadwiga Mikołajczykówna and Lucjan Rydel got married. The couple is known due to Stanisław Wyspiański, author of famous Polish drama 'The Wedding'.

• Conversion of Saint Pablo Chapel (Kaufman Family Chapel)


Saint Mary's Church with its history and variety of styles belongs to the most precious sacral monuments of Poland.
Pay attention to :

• Bungle call
• Main altar by Wit Stwosz
• Polychromies by Jan Matejko
• Stain glass windows by S. Wyspiański and J. Mehoffer
• Crucifix by Wit Stwosz


Visiting:

mon.-sat.11:30-18:00,
sunday 13:30-18:00,

People related with Our Lady Church:

• Iwo Odrowąż (bishop)
• Kasimir the Great (king)
• Wit Stwosz (veit Stoss)
• Jacek Łopacki (priest)
• Świętosław Milczący (servant of God)
• Tadeusz Stryjeński (architect)
• Jan Matejko (paintor)
• Stanisław Wyspiański (paintor)
• Józef Mehoffer (paintor)
• Jadwiga Mikołajczykówna and Lucjan Rydel (wedding couple of famous drama)
• John Paul II (pope)