OLD SYNAGOGUE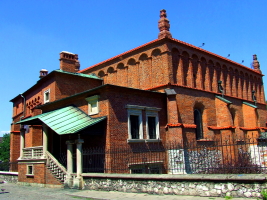 This is the oldest synagogue in Krakow, however there is slight information about its origin. The synagogue got fired many times, all documents informing about its creation not exist. The only indirect information brings the portal with an inscription and date 1407, and similarities that historians see comparing Krakow and Prague synagogues.
The oldest written information about the synagogue comes from 1553, when the synagogue gets name 'Old' in comparison with new one built by Isserles family.
In 1557 the synagogue was rebuild by Florentine architect Mateo Gucci. He erected two naves building and high attic protecting by the fire. As the synagogue was erected next to the city wall, its eastern part was dark. Already in the mid of 17th century, when the walls lost military function, one made window on the eastern wall.
In 18th and 19th centuries the synagogue was a patriotic movement place. In 1794 Tadeusz Kościuszko persuaded Jewish the fight for independent Poland. Also Ber Meisels encouraged Jews to fight for freedom.
During II World War Germans robbed the synagogue, in the end of the war they detonated the building. Just after the war the synagogue was reconstructed and in 1961 the city established first exhibition dedicated to the Jews. In 1979 permanent exhibition was opened and today it is one of the branches of Krakow historical Museum.
The synagogue does not perform its ritual functions.
People related with the synagogue:

• Mateo Gucci
• Tadeusz Kościuszko
• Zygmunt Hendel
• Jan Sas Zubrzycki

Visiting:

• Opened every day except saturdays
• Free entrance on Mondays 10:00 - 14:00