THE CLOTH HALL (SUKIENNICE)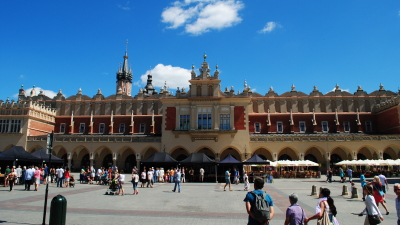 The Cloth Hall was erected after 1257 when the 'New Town' (the Market Square and the net of streets were created). The name reflects main purpose of the building – trading with cloths. At the beginning the Cloth Hall got the shape of two rows of stalls with two gates closed at nights. Merchants could leave their horses without fear loosing of their goods.
Today's Cloth Hall was erected in 1555 due to the financial support of the king Sigismund August. Contemporary building is decorated with several masks called maskarons (work by Santi Gucci) and loggias (work by John Maria Padovano).
In the mid 19th century it was renovated by Tomasz Pryliński. The architect made another two entrances to the building, made new arcades and carved reliefs according to the drowings of Jan Matejko. In that time two more masks were carved – one with cook, second with turkey. They present caricatures of two Krakow's presidents – Józef Dietl and Mikołaj Zebrzydowski.
In 1879 on the first floor the city council created National Museum - first national museum in Poland. Today, the museum possess rich collection of 19th century paintings, including works by Jan Matejko, Henryk Siemiradzki, Józef Chełmoński, Józef Brandt and others.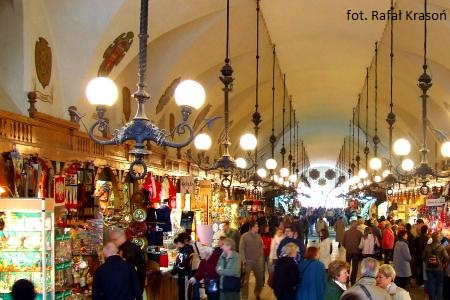 Inside, on the ground floor, the building is decorated with anchor shape lamps informing about membership to the Hanseatic League, and coat of arms presenting Polish historical towns. After the second world war new coat of arms were painted. Instead of the towns nowadays belonging to Ukraine, Lithuania or Bielarus, there are new symbols of the cities that belonged to Germany before the war. Along the building there are stalls where turists can buy hand made suvenirs typical for Polish and Krakow culture.
The Cloth Hall is surrounded by restaurants, where one can rest, drink tee or coffee, have some lunch. The most famous is 'Noworolski', restaurant functioning since 1910. The restaurant hosted famous people like Czesław Miłosz (Polish poet), Jacek Malczewski (painter), Julian Fałat (rector of the Krakow Academy of Art), Józef Piłsudski (marshal of Poland, national hero) and many others.
At the eastern entrance to the Cloth Hall a knife is hanging. One legend says that the towers of the Our Lady Church were built by two brothers. One was jealous as his brother erected higher tower, so he killed him. But soon realized his assessment and committed suicide. In fact such knifes were used to measure amount of corn.