SAINT FLORIAN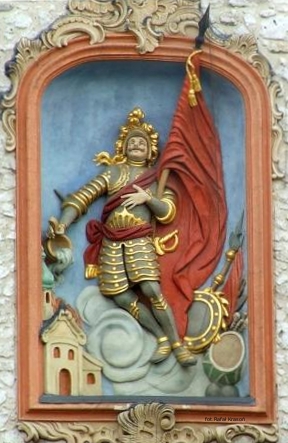 This story took place in 1184 when the duke Casimir the Just wished to have some relics in Krakow. Therefore, he send his bishop Gedeon to Rome to ask for some relics. The bishop Gedeon left for Vatican and together with the pope Lucius III walked in catacombs trying to find proper saint. First, they found saint Steven but when they opened his coffin, he lied on the belly showing his back. So, they opened saint Lawrence, but Lawrence was not happy. Finally they opened the coffin of saint Florian. Saint Florian was smiling – yes, he will come to Krakow.
The bishop Gedeon left Rome and when he was just crossing the city walls, the horses stopped and didn't moved until the duke Casimir came and promised to build Saint Florian church in this place. Then, the horses moved and relics on saint Florian were deposit in the Wawel Cathedral.
The church of saint Florian, ideed, erected in 12th century, stays until today. After destroying by Swedish it was rebuilt in baroque style. Today it's a parish for the Kleparz district.