WAWEL ROYAL CASTLE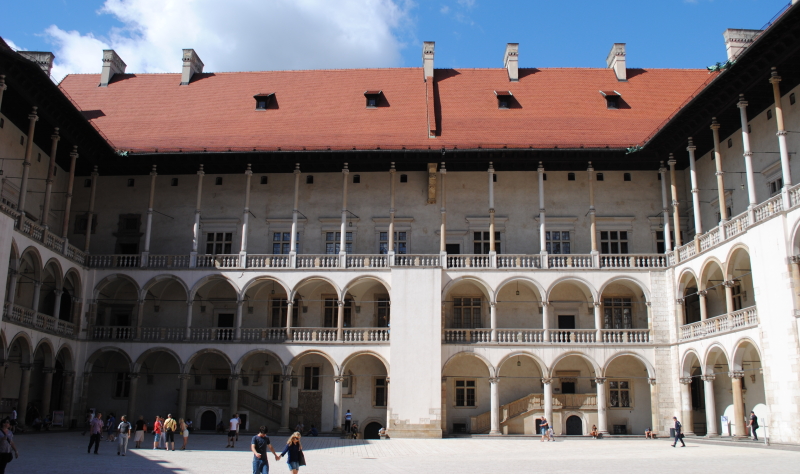 Krakow and the Wawel Hill are mentioned as the seat of duke after 1038. In this year Czech prince Brzetyslaw conquered western part of the then Poland together with its capital - Gniezno. Around this year 1038 the prince Casimir the Restorer moved with his court to Krakow, the same Krakow became second capital of Poland.
Only some archaeological exclavations inform about the first seat of the prince. In 14th century Casimir the Great erected new castle. The second castle does not exist too, it was re-erected at the begining of 16th century and only small part of the eastern wall and the basement are the witnesses of the gothic building.
Visitors admiring the contemporary castle will find many similarities with those erected in Italy. Indeed, Italian style was very influencive on Polish architecture and numerous Italian artists went under royal protection. One of them - Francisco from Florence got protection of the royal family. Soon, during the reign of Aleksander Jagiellon, northern part of the castle began reerected. Francisco from Florence continued his work during the reign of Sigismund the Old and performed his work until his death in 1516.
The job was continued by other Italian architect, Bartolomeo Berecci. Around 1536 erection of the castle was finished. Due to the undertaken works one of the biggests castle/royal residence in Europe was done. The castle got three floors. The columns of the castle were painted with red (one can see red color on the third and fourth column of the western wall). Besides around the top floor, galery of Ancient Rome emperors' heads was painted (today preserved only in the southern part).
Prosperity of the castle took until 1595 when the castle burned. Soon, however renovated, the castle did not get its position. The king Sigismunt III Wasa left for Warsaw establishing new capital there. Until the end of the indepence the castle was visited by the monarchs only occasionally. The last king, Stanislaw August Poniatowski spend in Krakow and Little Poland only two weeks.
In 1795 Poland lost independence, Krakow bacame Austrian border town. The ocupant fortified the Wawel Hill and destinated the castle as barracs for the soldiers. Practically to the end of 19th century the Wawel Hill (except the Wawel Cathedral) was closed to any visitors.
Pay attention to :

• Gallery of Ancient Rome emperors
• Paravan wall