NOWA HUTA - LENIN'S MONUMENT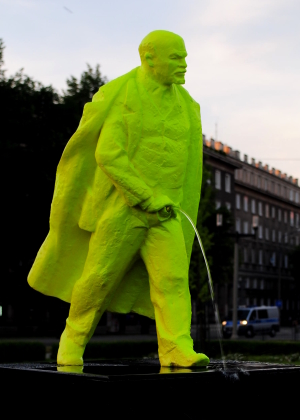 Wladimir Lenin is related with Krakow and Little Poland. He lived in Nowy Targ, Poronin and in 1912 also in Krakow. Here, in Krakow, he lived in the district Salwator. Nowadays, Historical Museum of Krakow has its branch in this house, however it does not present Lenin's life in its exhibition.
But for most people living in Krakow, Lenin is associated with the Nowa Huta district. Lenin's monument stood in the most representative part of the district, in Avenue of the Roses (Aleja Róż). The monument was carved by Marian Konieczny in 1973. The main reasons for fixing the monument were visits of prominent people and lack of such monument at the entrance of the Steelworks 'Lenin'.
The monument stood in this place until 1989 and the avenue was most hated place in Krakow. The monument was also object of several attacks. Some urban legends say about putting explosive material. The explosion, however, cut only his leg.
In 1989 the monument was taken off and sold to Sweden. One can see it only on the old photography.