THE COLLEGIUM MAIUS OF THE JAGIELLONIAN UNIVERSITY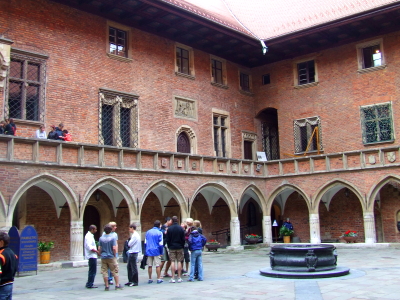 Collegium Maius - the oldest building of the Jagiellonian University was founded by the queen Jadwiga d'Anjou in the end of 14th century. According to some historians, she donated her jewellery for purcharsing new university building, soon she died and her husband and king Władysław Jagiełło became executor of her will (hence contemporary name Jagiellonian University).
At the begining of 15th century rich burgher, Stephen Pęcheż sold his house and plot, soon the house was enlarged by adding three wings and creatting inner yard with ambulatory and well in the center. Stephen Pęcheż's house, made of stone, differ from further wings, made of bricks and is well visible from Jagiellońska and Św. Anna streets.
During 650 years of the history lots of famous people studied at the Jagiellonian University. Among the world wide famous belong Nicolaus Copernicus, Doctor Faust, John Paul II and many others important for Polish culture: Jan Kochanowski, Maciej from Miechów, Jan from Kęty.
Today Collegium Maius is a museum describing 600 years of the University. It possess Arab astrolabium from 1054, so called Jagiellonian globus - first where Americas are marked, three medieval sceptres (by Saint Jadwiga d'Anjou, cardinal Fryderyk Jagiellonczyk and kardinal Zbigniew Oleśnicki). This is also the place where doctorates honoris causa are given.
Every second hour, at 9:00 AM, 11:00 AM, 13:00 PM, 15:00 PM and 17:00 PM one can see small show. From the clock on the yard the melody of Gaudeamus Igitur is heard, and next wooden figures of prominent for the University people are presented: pedel, saint Jadwiga d'Anjou, her husband and king Władysław Jagiełło, saint Jan Kanty, Hugo Kołątaj, and Stanisław from Skalbmierz.
Pay attention to :

• Baltazar Fontana's stuccos
• Karol Dankwart's polychromies
• Saint Jan Kanty's altar
• Turkish panaches
• Nicolas Copernicus's monument
• Juliusz Slowacki's epitaph