CHURCH SKALKA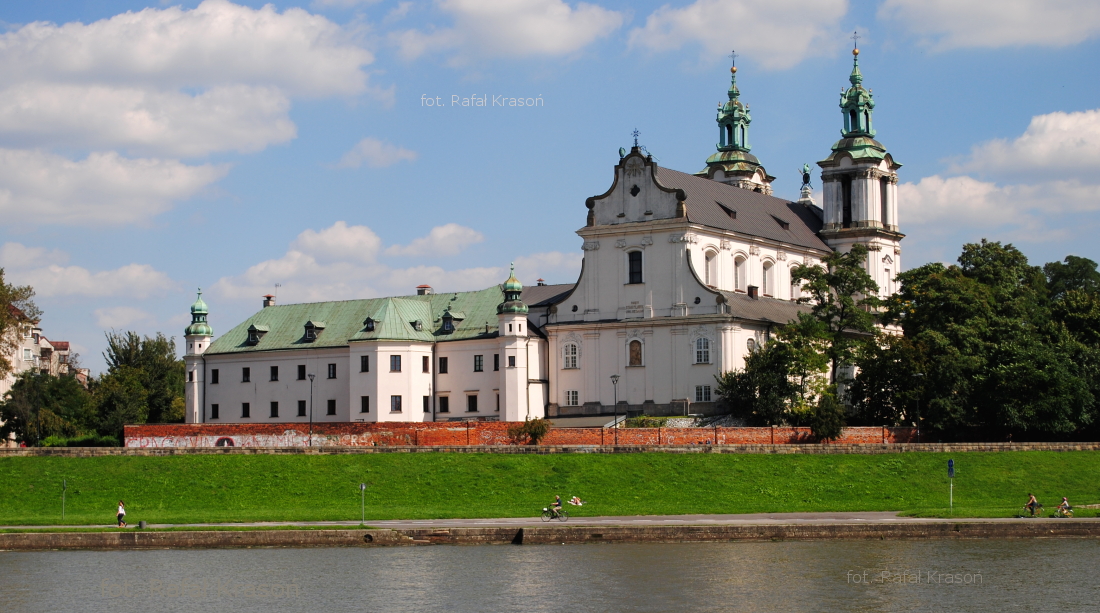 Archaeological exclavations prove that already in 11th century a rotunda shape temple existed on an island created by spreadly flowing Vistula river. The church was build on solitary lime rock, hence contemporary name - Church on the Rock (in Polish 'Skałka'). The church is mentioned for the first time in relation with asessement in 1079 when the king Boleslaw the Bold commited crime by killing the then bishop of Krakow - Stanislaw. There is no exact information about the murder, the only historian who could give us precise information is Gal Anonim, he, however, wrote shortly: 'One anoint by God should not punish another anoint by God'. Some more information gives Wincenty Kadłubek, he, however mentioned a legend, perhaps widely spoken in 13th century. According to the legend:

The king Bolesław the Bold left Krakow with most men living in the town to wage war in the east of Poland. When the knights fighted far away, women in Krakow betrayied their husbands. When the husbands came back home, they noticed infideities, so punished their wifes in various way. But the punishment issued by the king was most cruel - he forced the unfaithful spouses to fit dogs with their brests. That was too much, immidiately the bishop Stanisław objected the king's decision an in public, in the church 'Skałka' criticized the king. The furious king came to Skałka and asessed the bishop.

This story - truth or not - was very popular, soon after the crime the body of the bishop was moved to the Wawel Cathedral and the bishop became canonised as Saint Stanisław Bishop and Martyr. The canonisation took place in Assisi, Italy in 1253 and was the first canonisation of the Pole ever.
Soon after the canonisation both, the Wawel Cathedral and the church 'Skałka' became popular pilgrimage places of europeanwide range. In 14th century the church was replaced into ghotic temple, in 1472 the bishop of Krakow Jan Długosz invited monks of the Order of Saint Paul the First Hermit (Paulines) to Krakow and offered them 'Skałka'. Soon after, in 1480 Jan Długosz died and was burried in the church.
In 1657 the church was completely destroyed by Swedish, 70 years after invasion the church was reerected, this time in baroque style. The new design was proposed by Antoni Müntzer, later by Antoni Solari. Duea to these architects new and coherent temple was erected. The interior was designed by Wojciech Rojowski. In the main altar is decorated by a painting by Tadeusz Kunce Konicz and presenting

Saint Michael (first patron-saint of the temple). The painting was found by Andrzej Kostka Załuski.
Side-altars refer the the localisation of the church (rock) and to the Pauline Order, and present:

Saint Barbara - patron-saint of mainers and quarrymen, Saint Paul,

Saint John of Nepomuk and

Holy Faimly. On the left side there is

a painting of Saint Stanislaw and below a trunk containing blood of Saint Stanislaw. In front of the painting there is a chainlet offered by John Paul II during hist first visit in the church 8 of June 1979. Next to the painting there is a bust of Jan Długosz.
On the right side of the church there is a painting of Black Madonna - the painting reflects the main sight of the Paulines in Poland - Schrine Mountain in Częstochowa. Next to the painting there is a bust of Augustyn Kordecki - prior of the Monastery of the Paulines in Częstochowa in 17th century, the one who defended Częstochowa from Swedish invasion.
Year 1880 was approaching - 400 anniversary of Jan Długosz's death. Józef Łepkowski, professor of the university proposed to conmemorate Jan Długosz and create National Pantheon. Till the begining of 21st century 13th distinguished Poles were burried.
Skałka - this small church is perceived as one of the most important sanctuaries in Krakow. After coronations all kings should visit Skałka and pay homage the the bishop Stanisław. Also today Skałka is a sacred place for many Poles. Every yeat first Sunday after 8th of May there is organised solemn procession from Wawel Hill to Skałka. It is so called Procession of the Bishop th Skałka. In 1979 the pope John Paul II, as the former bishop and cardinal of Krakow, wished to attend the procession. Due to the political situation the communist authorities did not let the pope to visit Krakow. The pope visited Krakow but one month later.
Skałka is definitely must-be place for everyone visiting Krakow. The way to Skałka is easy - just take the road from Wawel Hill along left bank of the river. After 500 meters you will see entrance to the monastery.

Pay attention to:

• Altar of Saint Stanislaw
• Pool of Saint Stanislaw with mineral water
• National Pantheon
People related with the church:

• Saint Stanislaw
• Bolesław the Bold
• Gal Anonim
• Wincenty Kadłubek
• Jan Długosz
• Antoni Muntzer
• Jan Jerzy Lehnert
• Wojciech Rojowski
• John Paul II
Burried in the Pantheon:

• Jan Długosz
• Wincenty Pol
• Lucjan Siemieński
• Henryk Siemiradzki
• Józef Ignacy Kraszewski
• Teofil Lenartowicz
• Adam Asnyk
• Stanisław Wyspiański
• Jacek Malczewski
• Karol Szymanowski
• Tadeusz Banachiewicz
• Ludwik Solski
• Czesław Miłosz