THE CHURCH OF SAINT PETER AND SAINT PAUL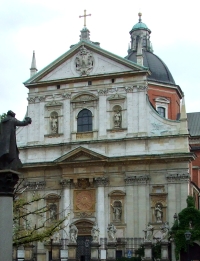 The Saint Peter and Paul Church is first barroque temple in Krakow. It was found by the king Sigismund III Vasa especially for the monks of Jesuits Order mover to Krakow some years earlier. The Jesuits Order was moved to Poland to protect the country of the Lutheran movement. Hence it's shape - almost quarter and with good acustic.
The facade reflects Il Jesu church in Roma. On the tymphanon there is eagle - coat of arms of Poland. Below two figures - Saint Sigismund and Saint Ladislao (patron saints of the then kings Sigismund III vasa and his son Ladislao IV Vasa). Below four figures related with Jesuits Order: Ignatio Loyola, Stanisław Kostka, Francis Javier and Aloizy Gonzaga.
In front of the church there is a fence composed with twelve apostols, (work by Kacper Bażanka and David Heel).
The interior is very ascetic, the main nave has no decoration and only in the abside there is beautiful stucos presenting patron saints of the church - Peter and Paul and two Polish saints - Adalbert and Stanisław.
Opposite to ascetic nave the side-chapels are richly decorated.

Chapel of the Last Supper (also Saint Francis Borgia) - the call of the chapel reflects third general of the monastery and active member of counter-reformation. His beatification in 1624 and canonisation in 1670 went across with finishing erecting of the church.

The vault contains paintings saying about Saint Francis Borgia: 1)

Communion of Francis Borgia, 2)

Vision of Francis Borgia, 3)

Francis Borgia by the bed of ill person, 4)

Francis Borgia and devil on the bed.

Michael Archangel - the chapel is decorated with painting presenting

Michael Archangel. The chapel contains interesting

vaultwith stuccos presenting angels and frescos:

Virgin Mary Assumption,

Nativity of Christ,

shepherds,

Annuntiation of the Virgin Mary,

???(the painting completely unvisible).

Holy Trinity (Francis Xavier) - todays call of the chapel is connected with the Brotherhood of Holy Trinity, however the paintings remain former call of Saint Francis Xavier.

The vault is decorated with four paintings informing about activity of Saint Francis: 1)

Francis Xavier on the sea (reflects missions done by the saint in China), 2)

Vision of Francis Xavier, 3)

Francis Xavier at the bed of an ill/dead, 4)

invisible painting.

Passion of Jesus Christs - the chapel was equiped due to Sebastian Komeski.

Madonna di Loreto - founded by burgrave Andrzej Czarnecki in first half of 17th century. the altar is decorated with painting of Virgin Mary from Loreto and Translocation of the Shrine Holy House from Nazareth to Loreto.

Ignatius of Loyola - Basque saint, first general of the order. Paintings in the altar present Saint Ignatius.

The vault is decorated to some paintings dificult to interpret:

painting 1,

painting 2,

painting 3,

painting 4.


Pay attention to :

• John Falconi's stuccos
• Graves of Piotr Skarga and Sławomir Mrożek
• Side-chapels with paintings on the vault