SAINT FLORIAN'S CHURCH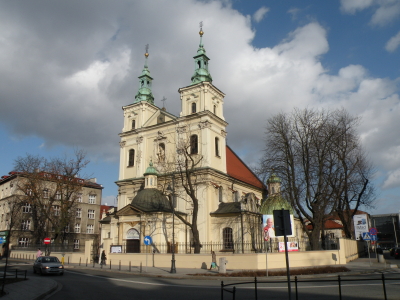 Tradition relates erecting of the church with some miracle. In 1184 the duque Casimir the Justice wished to bring relics of some saint to Krakow. But horses carrying Saint Florian's relics stopped about 300 meters in front of the defensive wall and did not moved until the duque promissed to erect church of Saint Florian in this place.
In 1226 the church was consecrated by Wincenty Kadłubek, bishop of Krakow and known chronicle. Soon asettlement around the church developed. In 1366 the settlement got priviliges from the king Casimir the Great. High position of the temple confirm documents saying that in 16th century it belonged to the monarchs and from 1578 Krakow Academy (today Jagiellonian University). Position of the Krakow Academy was abandoned already in 1780.
The town around the church did not get defensive wall and several times was attaced and ruined. Therefore today's temple comes from 1657-1684 and was erected due to the support of the Krakow Academy and the bishop Andrzej Trzebicki.
Renovation of the temple took place in 1902-1914 by architects Józef Kryłowski and Franciszek Mączyński. In that time two more side chapels were build and new stucos by Jan Szczepkowski. In 1965 paintor Wacław Taranczewski made new polichromy.
The church is important point on the Kings' Road. Kings and queens used to start coronation praying in this church, after deaths just here there were funeral masses.
Modern history is also interesting. In 1949-51 Karol Wojtyla was a priest here. This was the first parish of the future pope John Paul II. In 1999 the pope proclamed the church as Basilica Minor.



Pay attention to:

• Main altar with the picture of St. Florian
• Wooden altar of St. John
• Figure of Virgin Mary of Loreto
People related with the church:
• Saint Florian
• Casimir the Justice
• Bishop Gedeon
• St. John Paul II