SAINT ADALBERT CHURCH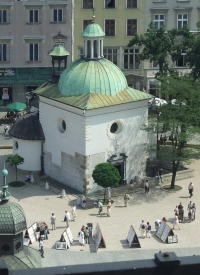 Saint Adalbert Church is one of the oldest temples in Krakow. Probably it was erected as the funeral chapel for townspeople living in Okół around 1000 A.D. According to a legend, here saint Adalbert prayed before leaving for the north, hence it's call. Saint Adalbert was killed some years later and his body was bought by the king Bolesław the Strong and taken to the Gniezno Cathedral. Today st. Adalbert is patron-saint of Poland and first man christianising pagans in Poland. In iconograpy is presented as a man with oar. In Krakow st. Adalbert is often presented together with st. Stanislaw.
Today the temple is two floors building. Ground floor (which is below present level of the Main Market) serves as Archaeological Museum, first floor (which is on the Market level) is functioning as a church.
The interior reflects saint Adalbert. The vault is decorated with painting presenting saint Adalbert converting pagans in Prussia, work by Eugeniusz Czuhorski.
Pay attention to :

• Cellars of the church
• Crucifis with humane hair

People related with the church:
• Saint Adalbert
• Blessed Wincenty Kadłubek
• Wiktor Zin